Best Coffee Makers of 2020
There's nothing better than starting your day with a fresh cup of joe – and nothing worse than starting it off with a pot of awful coffee, no matter what David Lynch says.
If you've spent your hard-earned money on the best coffee blend possible, you owe it to yourself to also use one of the top 10 coffee makers currently on the market.
But even a bad cup of coffee is better than no coffee at all

David Lynch, filmmaker and noted coffee lover.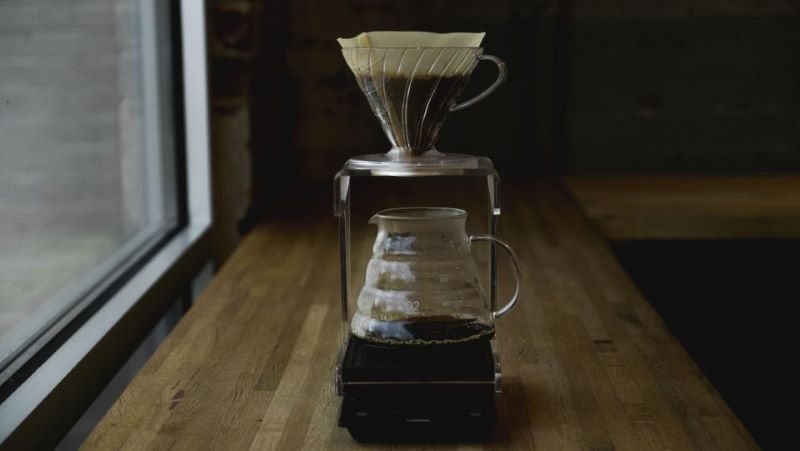 The best coffee makers:
We've taken a look at a wide range of coffee machines with different attributes, from one-mug, dual coffee/espresso machines, grind-and-brew machines, just to name a few. While these machines differ a lot in how they brew coffee, we focused mainly on finding machines that brought out and enhanced the taste of our high-quality beans. Here are the coffee makers that earned our top product grade.
For espresso machine, read this guide.
1. Technivorm 79112 KBT Coffee Brewer – Best Drip Coffee Maker
When it comes to drip coffee makers, Technivorm leads the pack. It's a no-fuss, simple-to-use machine that reliably delivers an excellent cup of coffee. It's also blazingly fast, which is great for mornings when the alarm mysteriously keeps turning itself off.
What we love about the KBT is that the cone-shaped brew basket enhances the water saturation time for a six-minute steep. According to the National Coffee Association (1), approximately five to six minutes is the perfect amount of time to extract all the aroma, flavor, and complexity. Any longer than six minutes, and you run the risk of over-extracting your coffee, making your coffee taste bitter, burnt, and just plain nasty.
Pros:
Hand-made in the Netherlands and backed by a five-year warranty
Uses a pre-immersion drop-style system to ensure water gets into every coffee grain
Travel lid will keep your coffee hot for hours without affecting the quality
Simple to use without the need for complex mental effort early in the morning
Cons:
Some pieces feel a bit fiddly and unnecessary
2. Cuisinart DGB-900BC Grind & Brew Thermal 12-Cup Automatic Coffeemaker – Best Coffee Maker with Grinder
We've all heard the adage that freshly-ground coffee beans are better than pre-ground coffee beans, especially as off-gassing results in coffee that tastes stale and boring (2). However, to get the best results, you need a grinder with razor-sharp blades. If you don't want to go through the hassle of grinding your coffee, it's a better option to buy pre-ground and store it correctly.
The Cuisinart DGB-900BC is the best coffee maker with a built-in grinder that we've used. It grinds just the right amount of beans for each cup right before brewing, so you'll get the freshest cup of coffee in town. It's also got a 12-cup capacity, which is great for those of us who may have a slight coffee problem.
Pros:
High-quality built-in grinder
Double-walled insulated carafe will keep your 12 cups of coffee fresh and warm all day long
Has a charcoal water filter that removes any nasty chemicals from your water before brewing
The automatic brew-pause function is great for when you just can't wait for your first fix of the day.
Cons:
The built-in grinder needs frequent cleaning.
3. Mr. Coffee 4-Cup Switch Coffee Maker – Best Budget Coffee Maker
If you're a minimalist who hates the idea of machines taking over your kitchen, you'll love the Mr. Coffee 4-cup Switch Coffee Maker. There are no frills or fancy gimmicks, just a plain ol' coffee maker that makes damn good coffee. You may think that budget coffee makers can't make good coffee, but this machine is happy to prove you wrong, delivering consistently excellent coffee every time.
While some people may object to the small carafe size, we found it perfect for a single person. The longer coffee stands, the worse it tastes. And since this machine is so simple to use, it only takes a couple of minutes to brew up a new batch of delicious black nectar.
Pros:
A super-simple, no-frills machine that's incredibly easy to use
Auto Pause functionality means you can grab a cup while the maker's still brewing.
Dual water windows prevent you from overfilling your machine.
Produces an excellent cup of coffee every time
Cons:
The materials are slightly flimsy but no different from many other 'budget' coffee makers.
4. Keurig K-Elite – best Keurig/Best Single Serve Coffee Maker
There are some mornings where it's almost impossible to get up, and the thought of brewing coffee seems too great a task. The Keruig is a life-saver in these situations: all you need to do is put in a pod and press a button.
The Keurig K-Elite has several features that we love. It's quiet, quick, and best of all,ithas a large water reservoir, so you don't have to fill it up every time you want some coffee. It also has several nifty extra features, including an extra-strong brew option and the ability to make tea and cocoa for that rare event when you feel like something different.
Pros:
Several attractive finish options including brushed silver, slate, or gold
Descaling indicator will let you know when you need to descale the machine.
Quick and efficient, perfect for rushed mornings
Large reservoir for up to eight cups of coffee
Cons:
If you don't like Keurig-like makers, this won't change your mind
5. BUNN 10-Cup Velocity Brewer – Best Small Coffee Maker
If you want the great taste of drip-brewed coffee, but don't want to wait for it, the Bunn 10-cup Velocity brewer could fit the bill. Its compact size makes it ideal for small kitchens where counter space is limited, and its functional looks fit in with any type of décor.
What sets the Bunn apart from other drip machines is its ease of use. There are no bells and whistles, just a button in the front that you press when you want coffee. You'll get a quick, convenient brew thanks to Bunn's hot water tank that keeps the water primed for coffee-making time.
Pros:
Get ten cups of coffee in under three minutes
An easy-to-use machine that's convenient and simple to clean as well
Smart spout in the carafe prevents you from spilling coffee when pouring
High quality build that you'd expect from a commercial machine
Cons:
Have to keep it on all the time to take advantage of the hot water tank
6. Cuisinart DCC-3200 – Best Programmable Coffee Maker
Brewing the perfect cup of coffee can be complicated, involving a wide range of factors such as water temperature, grind consistency, and the right amount of beans per cup (3). If you're like us, you don't want to spend hours agonizing about your altitude and how it affects the boiling point of water; you just want a good cup of coffee.
The Cuisinart DCC-3200 is the perfect machine for people like us. It comes with enough features to make you feel like you're in control of the brew but still performs well enough automatically that you'll never get a cup of bad coffee.
If you're looking for a coffee maker with tons of buttons and features to play with, look no further than the DCC-3200.
Pros:
Self-cleaning to save you the hassle
Several useful settings, like small-batch, brew-strength controls, and adjustable water temperature controls
24-hour programmable settings so you can wake up to the fresh smell of coffee
Surprisingly affordable considering the quality and options you get
Cons:
Can't adjust the brewing temperature
7. Breville Precision Brewer – Best Thermal Carafe Coffee Maker
Breville is a brand that speaks a control freak's language. The Breville Precision Brewer is the ultimate coffee maker for people who want to tinker with their coffee settings to achieve the perfect roast.
In addition to a fast brew cycle (essential when going through multiple cups of test coffee), the Breville's claim to fame is its temperature control during brewing. Not only can you mess around with temperature settings, but you can also go all the way into cold-brewing as well if that's your thing.
The Breville has the looks, charm, and ability to convert even the most casual coffee drinker into an enthusiastic coffee experimenter. If you're looking for a coffee brewer that offers control, style, and several convenient features, this may be the machine for you.
Pros:
Variable brewing temperature from 176 to 208 F
The insulated carafe keeps your coffee warm throughout without needing to heat from the bottom
Comes with a removable cone filter insert, allowing you to brew cone and basket brews at once
The non-drip carafe is very easy to clean.
Cons:
A tad expensive for a drip machine
8. BUNN BX Speed Brew Classic 10-Cup Coffee Brewer – Fastest Coffee Maker
If you want something simple to use and don't want to spend hours waiting for your coffee to brew, check out the Bunn 10-cup Velocity brewer. Bunn is mainly a commercial coffee manufacturer, and they've adapted their winning formula for the home.
The 10-cup velocity brewer can brew up to 10 cups of coffee in just three minutes, while still generating maximum amounts of aroma, body, and flavor. Bunn uses a unique sprayhead to ensure even extraction, and the internal hot water tank keeps water at the optimal brewing temperature. So unlike other machines that have to first heat the water up before brewing, the Bunn's ready to go when you are.
Pros:
Commercial-style brewing from the comfort of your own home
Its sleek, compact, and stylish design will complement any kitchen.
The fastest coffee maker on the market, without compromising of coffee quality
Innovative carafe spout means you'll never spill any precious coffee again
Cons:
Slightly awkward carafe fit
9. Mr. Coffee All-in-One Occasions – Best Dual Coffee Maker
There are many times when you want something different from just a normal cup of drip coffee. K-coffee is excellent if you're in a hurry, while an espresso will keep you going way past your bedtime. So you have two options: have five or six coffee makers at home, or buy one that does several jobs at once.
The Mr. Coffee All-in-One comes with an espresso attachment, a K-cup single-serve attachment as well as the traditional drip brew setting. It even comes with a frother that works with both dairy and non-dairy kinds of milk. This coffee maker does everything well, without sacrificing quality in the name of convenience. If you prefer having flexibility in your coffee-making options, this may be the right choice for you.
Pros:
Multiple attachments for almost any type of coffee
Easy to use and easy to clean
Has a temperature control system to help you make the perfect cup every time
Smart water dispenser ensures you'll never have to deal with overfill
Cons:
Mostly plastic components make the coffee maker feel cheap
10. Ninja Hot & Cold Brew System – Most Versatile Coffee Maker
Ninja probably isn't a brand you associate with coffee (they're famous for their blenders), but the company has moved into coffee makers in a big way. The Ninja Hot and Cold Brew System offers several nifty features that set it apart from its competition.
Not only does the Ninja handle multiple brewing styles, but it also offers several sizes, so you never waste any coffee. If you're someone who's also into tea, you'll appreciate the temperature controls that let you brew anything from oolong to red teas and anything in between.
One aspect that I loved, in particular, was the Ninja scoop. It gives you a great estimate of how much coffee to use per brewing size and style, which is invaluable when learning how to work a new machine.
Pros:
Bright LED interface
The single-serve option doesn't need any pods, making it more environmentally-friendly
The Ninja scoop is an excellent guideline on how much coffee to use
All the functions work well with no sacrifices in the name of convenience
Cons:
On the tall and unwieldy side
No one can understand the truth until he drinks of coffee's frothy goodness"

Sheik Abd-al-Kabir, Islamic Teacher
Buyers Guide: 5 Things You MUST Consider Before Choosing
Choosing the right coffee machine is like choosing your favorite pair of slippers; it has to fit into your lifestyle. Having a huge multi-purpose machine is pointless if you only want a cup of drip coffee in the morning. If you love experimenting, then you'll hate having a simple machine that's boring and makes average coffee.
Still not quite sure which model is right for you? No worries, my coffee-lovin' friend! To help you find the perfect unit for your unique tastes, check out our buyers' guide with our top 5 tips to consider before buying your own coffee maker.
Carafe capacity (how much you drinkin'?)
The carafe is the bottom bit that holds your coffee before you dump it all into your 20oz. coffee mug. While you may not think carafe size is important, it does decide how much coffee you can make in one go.
Smaller carafes are great for people who only want one or two cups of coffee per day or want to brew their coffee fresh every time. Leaving your coffee in the carafe for longer than 30 minutes can affect the flavor (4), which should also factor into your decision process.
If you've got a family or just really love coffee, we'd recommend buying a larger carafe. You don't have to fill up your carafe every time, so it just gives you a bit more flexibility. If you've got a closet for a kitchen, you may prefer a smaller carafe just so that the coffee maker fits comfortably in your living space.
Programmability (how easy would you like it?)
If you're dazed and confused in the morning, the last thing you want to do is mess around with the coffee machine. Wouldn't it be great if you could have coffee on demand, without having to use any brainpower?
High-end coffee machines often feature several programming functions to make your life easier. Some will turn on or off at pre-set times, while others can stay hot for a certain amount of time before shutting off.
If you don't have a bevy of servants or a well-trained partner, you may want to invest in a programmable coffee maker to make your mornings as hassle-free as possible.
Temperature control (want to savor the flavor?)
Having the right temperature is essential for the absolute perfect cup of coffee. That said, I freak out at the idea of messing around with temperatures, worried that I'm missing out on the best possible coffee I could have.
As with many other coffee maker options, it depends on how deep down the rabbit hole you want to go. If you're looking for convenience and a decent cup of coffee, you probably don't need brewing temperature control. But if you're a secret barista in training, temperature control is one of the basics you must have.
Extra features and accessories (still want more?)
There are a lot of extra features that can make a coffee maker just that bit more special. Since some of these features don't come cheap, take the time to work out which ones you need before shopping around.
Water filter
Water quality plays a huge role in the taste and quality of your brew. Excess calcium and magnesium in hard water can attract the flavor compounds found in coffee, leaving your coffee flavorless and flat. If you use a water softening system, your water will be slightly more salty than normal, which will also affect your end product (5).
While you can get away with using only bottled water for your coffee, you'll find the cost adds up surprisingly quickly. A better option may be to get a coffee maker with a built-in filter. Just keep in mind that you'll have to replace the filter regularly to get the full benefits of the add-on.
Pause mid-brew
Sometimes you just can't wait the full six minutes it takes for a pot of coffee to brew. Coffee makers with pause functionality will detect when you remove the carafe from the machine and stop the coffee flow. It's a great option for many machines, both in the high-end and low-end ranges of the budget spectrum.
Thermal carafes
The type of carafe you use will affect a lot more than just how your coffee maker looks. Glass carafes are pretty, but rely on a hot plate to keep the coffee warm. Not only does this result in uneven heating, hot plates can even overbrew your coffee if they're set too high.
Thermal carafes use special insulation to keep your coffee at peak temperature for up to two hours without the need for a hot plate. Using a thermal carafe ensures your coffee has a better flavor after several hours, though you still run the risk of oxygenating your coffee and making it taste stale.
If you prefer brewing up a large batch of coffee and drinking it throughout the day, it may be worthwhile to invest in a coffee maker with a thermal carafe. If you prefer to make your coffee fresh every time, the cost may not be worth the benefit.
The experiential difference that you're going to find [using pre-ground coffee] is two things. Aroma and acidity will be very minimized compared to if it was ground fresh.

Ken Selby, 2018 Winner of the US Cup Taster's Competition
Coffee grinders
The only smell better than fresh coffee is the smell of freshly ground coffee beans. While built-in coffee grinders can make your life easier, they may not be the best choice for all coffee connoisseurs. Many coffee makers use poor-quality blades, which make uneven coffee granules, leading to average coffee, at best. However, there are some machines, like the Cuisinart DGB-900BC, that have excellent grinders that deliver commercial-grade grinds.
If you already have a coffee grinder or don't mind using pre-ground coffee, then the extra expense of a built-in coffee grinder isn't something you need. Best coffee grinders guide here.
SCA certification
The Specialty Coffee Association is a body that tests and certifies coffee makers of all types (6). They mainly review residential-grade coffee makers, making sure that these machines pass their rigorous requirements. While the lack of SCA certification isn't necessarily a red flag, most of our top products are all SCA-certified.
Price (all things considered, is the price… right?)
No matter what type of coffee maker you're looking for, your ultimate limitation is your budget. When you start shopping around for coffee makers, you can quickly get lost in all the cool and fun features, and you start believing you need them and should pay for them.
All of the machines we've looked at are great value for money, with many punching above their price class. Instead of getting excited about a feature that you'll never use, try to find the best coffee machine at the upper end of your budget. It's better to have a no-frills machine that makes great coffee, rather than being stuck with an expensive monster that you only use once a week because the coffee sucks.
Conclusion: So… Are They Worth It?
Short answer: Yes. You'll find that using something like the Technivorm 79112 KBT Coffee Brewer can up your coffee game dramatically. Not only does it bring out subtle tastes thanks to its scientifically-proven extraction time, but it's also incredibly easy to use. You don't have to be a coffee snob to appreciate the difference a good coffee maker can make to your coffee-making and drinking experience.
References:
https://www.ncausa.org/About-Coffee/How-to-Brew-Coffee
https://perfectdailygrind.com/2018/12/is-pre-ground-coffee-ever-better-than-freshly-ground/
https://www.thekitchn.com/do-you-need-to-worry-about-water-temperature-when-brewing-coffee-smart-coffee-regular-joes-216229
https://www.homegrounds.co/how-long-is-brewed-coffee-good-for/
https://www.coffeebrewguides.com/water-quality-affects-coffee-taste/
https://sca.coffee/