Best Burr Coffee Grinders of 2020: Reviews and Comparisons
Welcome to the wonderful world of burr coffee grinders. If you don't feel like Alice tumbling down the rabbit hole yet, then just wait. Entering the world of burr coffee grinders is its own mystical adventure. You won't know whether you'll love a grinder until you try it. So, we tried them for you and determined the best coffee grinder out of all of them.
There are so many burr coffee grinder options on the market. Shopping for one is a daunting task, so we made it easy. Our burr coffee grinder reviews include the best of the best in various categories. So, choose your brewing option and get shopping.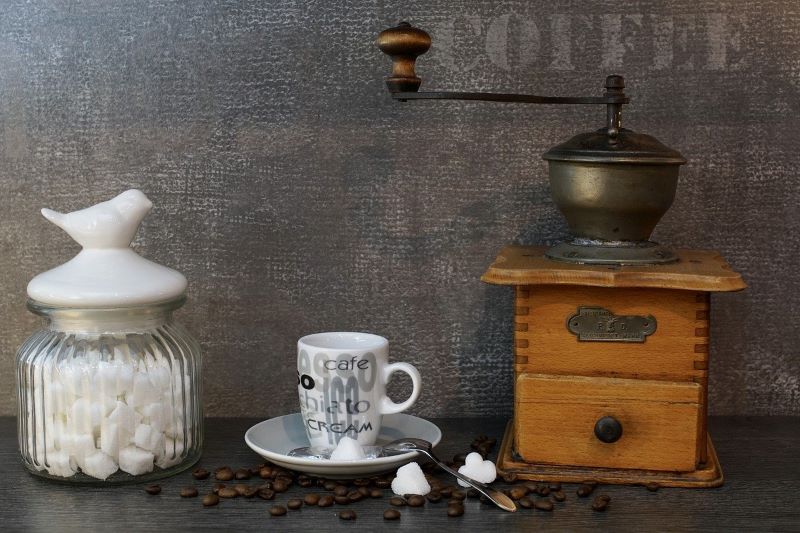 Best Burr Coffee Grinders
This OXO conical burr grinder is a reliable budget option. The grind on this model is super customizable with 15 grind settings. You'll be able to configure the grind exactly to your taste. Once you figure out what setting you like, your next cup is a natural, one-touch start away.The feature lets you brew an identical cup without having to reconfigure your settings.
The hopper holds almost a full pound of coffee beans, making this a good grinder for high capacity grinding. Unfortunately, when the grounds dispense, it can get a little messy. Some of the grounds seem to get stuck to the burr after a while.
OXO does an excellent job, ensuring you won't deal with any static electricity with this model. A few features prevent the static electricity: a grounded power plug, metal grounds bin, and low motor RPM. The low-motor RPM helps keep the unit quiet, too. This grinder tends to develop a buzzing noise when plugged in after a while, but it doesn't affect the operation.
Pros
Customizable grind settings
High capacity hopper
Quiet
Good for espresso
Cons
Messy
Grounds get stuck
Develops buzzing noise
This Rancilio burr grinder is impressive. The burrs are a durable commercial-grade, perfect for an environment where people consume a lot of coffee. The hopper holds more than a half-pound of beans, which makes it ideal for an office or small coffee shop.
The grind options are plentiful but simple enough to navigate with some ease.This feature's setup makes it easily accessible for those who have little interest in learning about coffee.
The direct drive motor in this Rancilio keeps the grinder quiet. All of its features give you versatile brewing options. This grinder is appropriate for different spaces that accommodate moderately-sized groups of people. It could get hairy if the grounds from oily coffee beans get stuck in the burr. Although it's only a minor inconvenience, it could get more serious in a pinch.
Pros
Durable
High grinding capacity
Easy to use
Versatile enough for every kind of coffee
Cons
Beans get stuck in the burr
The Baratza Virtuoso is a sleek, stainless-steelburr grinder that'll take up minimal real estate on your counter. You can put this grinder anywhere.
Related: Best coffee grinders for pour over coffee.
If you work in an office, none of your coworkers would mind you using this in the break room for a quick cup.Anyone skeptical about a burr grinder won't be after hearing how quietly the device gets things done. The Virtuoso hasspeed reducers that prevent it from getting loud and overheating.
There are 40 grind settings available, so everyone can have a cup of whatever they like. The hopper holds 10 ounces of beans, too, so it shouldn't be a far reach to invite a few friends over for coffee.
Pros
Small footprint
Lots of grind options
Attractive design
Designed to last a while (just order parts to fix whatever breaks)
Cons
Grinder timer is not precise
Make room, because the Porlex mini hand grinder is a great tool to addto your coffeetoolkit. It's small enough to fit in your hand like a remote control or tuck in a small pocket for travel.
There's no room to show off grind speed, but the ceramic burrs grind a solid cup of coffee. This grinder would be perfect for camping trips or if you were staying in a hotel.
The Porlex mini is relatively durable. There are a couple of plastic pieces that could break if handled too aggressively, though.
Pros
Portable
Versatile grinding
Ceramic burrs
Durable
Cons
Takes a while to make fine grounds
Some plastic pieces are flimsy
The Cuisinart Supreme Grind is an appropriate introductory model for first-time burr grinders. With 18 different grinding options, you can experiment using the predetermined settings as a guide. It'll help you start verbalizing what you do and don't like about a coffee's grind.
This model also comes with a built-in timer for grounds. Don't worry about guessing when your grounds are perfect. The grinder will do it for you to ensure you get the particle size you want for your drink.
The actual grinder is small but packs a powerful punch. It's more tall than wide so that you can reserve minimal countertop real estate. The hopper fits eight ounces of beans ready for you to grind when you need them. If you like to pre-grind a few days' worth, the chamber for grounds holds enough to make 32 cups of coffee.
Pros
Big hopper and chamber
Takes up little counterspace
Lots of grind settings for guidance
Auto-off timer for grounds
Cons
Espresso grounds don't turn out fine enough
Machine builds static electricity easily
The Breville Smart Grinder Pro can do almost anything. It's the utility belt of coffee grinders as far as I'm concerned. Most of the grinders on this list have anywhere from 15-40 grind settings. This one has 60.
You can make virtually any coffee-beverage with that many grind options. Once you find a setting that you love, program it in so you can enjoy it the same way later.
The hopper capacity is a whopping 18 ounces— one of the larger capacities in a home appropriate unit on this list. Throw what you have in there and grind what you need or grind for a group. You can accommodate either.
The main issue with this model is the motor, though. It's an easy-to- bypass issue, but definitely an inconvenience. Something more powerful would truly make it rival a professional model.
Pros
Many grind settings for a completely customized cup
Large hopper capacity
Easy-to-clean
Programmable grind settings
The Capresso Infinity grinder is a match made in heaven for the coffee drinker that likes to switch it up often. The commercial-grade steel burrs grind with 16 settings. There are four settings for extra fine, fine, regular, and coarse. The straightforward grind options are enough to satisfy coffee drinkers across experience levels.
This grinder does a good job of espresso grinding. More on espresso grinders here.
The gear reduction motor prevents the grinder from heating up too quickly so that you won't accidentally burn your coffee grounds. If you're grinding as much coffee as the hopper will allow, that's a significant amount of ruined grounds. So, that feature is handy.
There's a small problem with the hopper. The lid is clear. So, mark the lid with something noticeable if you're a morning person who takes a while to wake up. Otherwise, you could end up sweeping up a floor full of spilled coffee beans.
Pros
Consistent grind
Straightforward grind options
Gear reduction motor protects coffee beans
High capacity hopper
Cons
Hard-to-see hopper lid
Some static
More french press coffee grinders here
The Baratza Encore is reliable in every sense of the word. It grinds each of its 40 steps consistently, then stores neatly in a cabinet or on the counter. You won't feel like you've lost precious counter real estate even if you decide to leave your Baratza out.
This grinder will serve you well until it reaches the inevitable time when a part no longer works. That's when the Baratza customer service comes in to save the day. The designers clearly built these for longevity.There are replaceable parts, and they have a repair team. So, if your motor goes out, you can send it in for a modest fee ($45).
The Baratza Encore is a hardworking grinder with a team behind the brand that seems genuinely committed to good customer service.
Pros
40 different grinds
Sleek design
Great customer service
Easy to use
Cons
Doesn't auto-measure grounds
No timer
The Bodum Bistro is the grinder that has a solution for things you might have complained about with past grinders. The container that catches the grounds consists of Borosilicate glass. It prevents static from staying in the grounds.
The hopper holds just under eight ounces of beans. There are 12 settings to choose from, and the Bodum shines when you coarse grind. Adjusting the settings is easy. Just twist the hopper. Preset timers ensure that you only grind what you intend to use.
On the lid of the hopper, there's a measuring guide to assist you when you go to grind. The conical burr ensures that you get a consistent grind. Also, never worry about the grinder slipping away from you. It's outfitted with a silicone grip band to combat slippery fingers.
Unfortunately, when this grinder starts to go, you'll have to replace it. Bodum doesn't replace parts or repair grinders.
Pros
High capacity hopper
Slip grip silicone
Borosilicate glass to prevent static
Measuring guide on hopper lid
Cons
No replacement parts or repairs
Difficult to clean
What to Look for When Buying a Burr Coffee Grinder
If you're purchasing a burr coffee grinder, you're looking for a more elevated coffee experience. That decision was the easy part. There are many burr coffee grinders on the market, but you need to find one that fits your needs the best. Before you start shopping, use this list to help you figure out precisely what you want to find.
Does it fit your price range?
The price point is one of the most important things to consider. Why? Because falling in love with a grinder that you can't afford is a bad situation. Burr coffee grinders range from around $100 to over $500. Don't let the high end of that price range scare you off, though. There are sturdy burr coffee grinders at every price point.
Starting with your budget will help narrow down the options right away. Keep in mind, though, that models at a higher price point tend to be more durable. They're made with better, more long-lasting materials.
Is there a Learning Curve?
If you're about to purchase a burr coffee grinder, you likely fall into one of two categories. The first category is "the barista." You may work in the coffee industry or are a serious coffee enthusiast looking to upgrade your setup.
The second category is "the casual drinker." You like coffee. You might even love coffee. You want a good cup when you're home, and you found out that burr coffee grinders are a must-have.
Deciding which category you best fit into will determine what kind of learning curve you can stand. As a casual drinker, you may not want to learn how to use a complicated piece of equipment. You just want to grind your beans and get on with your day.
As a barista, you may consider this upgrade a learning opportunity. You're willing to spend time experimenting with your equipment. Knowing which side you fall on can help narrow down your options.
Number of Grind Settings
Most of the grinders were able to produce a coarse grind with relative ease, but when it came to producing a very fine grind, most could not yield a grind with a true powdery consistency.

Ginny Lui, Consumer Reports' Test Engineer for coffee makers and coffee grinders.
Pay close attention to grind settings. They give you control of how fine you can grind your beans. A French press, drip coffee, and espresso all require different settings for that "perfect" cup. Most coffee grinders can achieve the coarse grind easily. Espresso grinds are more difficult.If you like to switch between brewing methods, this is a critical step.
Important phrases to look for (1):
Stepped: A stepped grinder has a limited number of preset grind settings. These types of grinders are great for anyone who wants or needs a quick grinding guide.
Stepless: A stepless grinder doesn't come with preset grind settings. You can play with these settings. Figure out exactly how you like your cup of coffee with different grinds. This feature is a handy customizable option for coffee drinkers who want a little more freedom.
Grind Consistency
Espresso drinkers, especially, listen up. The consistency of your coffee grounds is important to the quality of your cup of coffee. The best tasting brews come from even, consistent grinding.
You're already on the right track by looking for a burr coffee grinder. All burr grinders are better than blade grinders at creating a consistent particle size because of the grinding method. If you just wanted an upgrade, any burr grinder will work. If you are a stickler about your espresso, pay close attention to reviews that mention this.
Bean hopper capacity
Ask yourself how much coffee your household brews daily. If you have a full house that regularly brews large amounts of coffee, you might want a high capacity grinder. If your household doesn't brew much coffee, capacity won't be as high of a priority for you.
When you think about capacity, you have to consider the hopper, too. The hopper is the area where the coffee beans sit before you grind them. It can be a pain to fill it repeatedly, so choose wisely.
Speed and Heat
Combining speed and heat may seem like a curious decision, but it's not. They're related. High-speed coffee grinders produce heat. Sometimes, they produce so much heat that they affect your coffee's aroma and flavor. Too much heat and your grounds could burn before you even brew your coffee.
When it comes to burr coffee grinders, high speed does not equal quality results. Lower speed grinders are good options. If you specifically want a model that is low speed, look for descriptions that include a direct drive motor. If you're going to spend a little extra money, look for a model that lets you control the grind speed.
Size
People commonly leave coffee grinders out on counters. Burr coffee grinders vary in the amount of space they take up. Make sure you know how much space you can commit to your grinder before you choose a model.
Take measurements of your space, and pay close attention to height. Some burr coffee grinders are narrow, but tall.
Noise
Coffee grinders are noisy. There's no getting around that, but there are options for less noisy grinders. Read the reviews of every grinder you consider. Some grinders start with a reasonable noise output, but as they age, the machines get louder.
If you live somewhere with people who don't like a lot of noise, conical burr coffee grinders are by far the least noisy. Flat burr coffee grinders are next on the list, followed by blade grinders.
Dosing
Dosing is coffee terminology for "dispensing."There are generally two ways that coffee grinders dose. Some grinders come with a chamber where grinds rest until they're needed. Other grinders don't have a holding chamber.
There are pros and cons to each. A grinder with a chamber gives your grounds a holding area to wait until you brew coffee. If you don't brew all the grounds, your next cup is waiting.
The argument for or against either of these goes back to the freshness of the grounds. For maximum flavor and aroma, grind only the beans that you need right then. The longer the grounds sit out, the less impact the flavors and aromas have on your coffee.
Build quality and material
There are generally two types of material used to make burr coffee grinders: ceramic and stainless steel. Stainless steel burr grinders are the less expensive option and are the most common. Since they're so common, it's easy to find replacement parts if you need them.
You won't fare as well with ceramic burr grinders. Replacement parts are hard to find for these. They last for a long while, though. If you're an espresso drinker, ceramic grinders are ideal. They come with a certain amount of risk, such as chipping the ceramic, so you have to be careful.
Appearance
The way a burr coffee grinder looks on the counter matters more to some than others. Luckily, grindersfor aesthetic lovers exist.From sleek and classic to bold and colorful, there are many different-looking coffee grinders.
Online reviews
Have you ever been on a date where the person looks great on paper, but disappoint you when you meet in person? It's the same way with burr coffee grinders. Some of the information that you read in product descriptions are based on ideal settings.
Go ahead and assume that you're not grinding coffee beans in an ideal setting. The setting includes the time of day, the amount of patience you have, the moisture in the air, and more. Since you don't live in a vacuum, these will change all the time.
The reviews tell you how the product performs in non-ideal settings. You can find out things like:
How the device performs after a few months
Potential missing pieces
How loud a device is in the context of the home
If there is an extra learning curve
Whether the device is as easy to use as the description says
What customer service is like
Whether there are issues with the seller
And more…
Reviews can save you from buying something that isn't actually what you wanted. They give you a realistic idea of what you might buy, which is essential when it comes to grinders.
Manual vs. Electric grinders
Burr coffee grinders come in two primary forms— manual and electric. When you're deciding which one to purchase, the primary consideration you need to make is your budget. Manual grinders and electric grinders are in two different price brackets.
Manual grinders typically cost under $50. A good electric burr coffee grinder usually requires at least $100 for the most basic versions. If you find an electric grinder for under $100, then you should run far away. The lower end of electric burr coffee grinders is rampant with false burrs. (2)
False burrs don't create the consistent grounds needed to brew something properly. An excellent price on an electric burr coffee grinder is probably a little bit of false advertising. Make sure you read the reviews if you're suspicious.
Now, we can go into the specifics of electric and manual coffee grinders.
Electric Burr Coffee Grinders
These are what we think of first when we think about coffee grinders. They're quick, effective, and loud.Electric coffee grinders are great for customizability. Most come with an option to adjust how coarse or fine you want to grind your coffee that day.
One of the biggest perks of using an electric grinder is the convenience. You could grind coffee beans all day with minimal effort.
Manual Burr Coffee Grinders
A manual coffee grinder is more suitable for smaller amounts, and the process takes a minute or two. But that process is fun and satisfying. It's also much quieter than an electric coffee grinder if you prefer a contemplative morning coffee routine.

Michael Shewmake, Writer at Atlas Coffee Club
Manual burr coffee grinders are like the electric grinder's older sibling. They're perfect for small-batch coffee grinding and tend to produce consistent grounds. Using a manual grinder does requireeffort. Depending on what you're brewing, the level of effort varies.
If you tend to brew in a French press, a manual grinder accommodates that well. A coarse grind takes very little time— 1-2 minutes. A fine espresso grind takes more time and considerable effort to achieve, though. For grounds that fine, a manual grinder isn't your best bet.
Manual grinders are small, giving it the portability factor. They're also reasonably sturdy appliances. If you're a camper, this would be the perfect tool to pack for morning coffee at a campsite. Other times you could use it include:
If you have a newborn baby
If you have pets that are scared of loud noises
If you want to keep it in your desk at work
And more…
You don't necessarily need to choose between a manual and an electric grinder. They both serve different purposes, and a manual grinder can save you in a pinch.
Blade vs. Burr Grinder
Blades and burrs are two mechanisms in grinders that do the actual grinding.That's all they have in common. Otherwise, they represent two different options with different functions.
Blade Grinder
Blade grinders are electric and use a blade (as opposed to a burr) to grind coffee beans. Blade grinders are more common for a few reasons (3):
They're less expensive (< $50). The outsides tend to consist of lower-quality material. Sometimes it's nothing more than hard plastic. They're also easy to use, and they're lightweight. You could go to your neighborhood big-box retailer and buy one right now without breaking the bank. Sometimes, you can find one that is a dual spice grinder.
The fact that they're so accessible also makes them an easy way to enter the home coffee brewing world. Unfortunately, the primary drawback of a blade grinder is the blade. Blade grinders basically slice coffee beans over and over.
That creates a problem because you can't get a consistent grind that way. When you have varying ground sizes, your coffee brews inconsistently. Larger grounds take less time to develop than the fine grounds. You can either end up with an excessively bitter cup or a weak cup.
Timers control the grind size. The longer you grind the beans, the finer they get. Some blade grinder options have a built-in timer, while others have a manual start and stop.
Burr Grinders
Burr grinders come in electric and manual versions. Burr grinders' design lends them a certain versatility. A burr grinder has two burrs (4) that work together. One stays still while the other rotates, crushing the beans.
This process yields a consistent texture throughout the grounds while also prioritizing speed and efficiency. But there are a few downsides to burr grinders. They're much more expensive than blade grinders. You can expect to pay at least $100 for a quality burr grinder.
There are burr grinders that have lower price points from which you can choose. Unfortunately, there's one catch: the low price-point burr grinders are not real burrs. Marketers just advertise them that way.They may perform adequately at first, but they will decline quickly.
The physical grinders are usually heavy and expensive. Make sure you know how much space you have to use because they are also quite large. Some models are narrow but tall. Some models are wide and tall. If you look at the reviews, someone has likely posted a picture for reference.
Two Types of Burrs: Flat Burr, Conical Burr
Within the burr family, there are two types— the flat burr and the conical burr. They both have two discs inside, but they differ in shape. The change in form – from one type to the other – affects the grind. (5)
A flat burr grinder has two burrs that sit parallel to each other. As one of the burrs moves, the coffee beans shoot at the burr teeth. The proximity of the burrs controls grind size. Closer burrs produce finer grounds. More distant burrs produce more coarse grounds.
A conical burr has two discs that meet at an angle. This intersection forms a cone shape, and that's where the burr gets the name "conical." This shape allows for the grounds to travel straight down to the holding vessel. If you look up closely (like microscope close) at grounds from a conical burr, you'll notice that the grounds aren't entirely uniform.
Under a microscope, you can see that there are both large and small grounds. Roasters refer to this by its technical term, bimodal particle size distribution. (6) Even though we've preached "uniformity" so hard, bimodal grounds are a good thing. The large and small particles work together to hold water to help with brewing.
Espresso requires water pressed through it with nine bars of pressure.Having the large particles to help hold the water to the fine particles helps develop the flavors. It is much more time consuming for water to penetrate the fine particles.
Another difference in conical and flat burrs is how the grounds leave the grinder. Flat burrs are, well, flat, so the grounds tend to get caught. Whereas conical burrs are cone-shaped, so the grounds gothrough the burrs and straight down.
Conical burrs are the less expensive option. They also are quieter. Flat burr grinders are more expensive and louder, but they create a uniform grind particle size.
BONUS TIPS
The number one thing you should look for before you buy a burr coffee grinder is your coffee beans. Store-bought coffee beans that have sat on the shelf for an unknown amount of time are not the way to go. If you want your burr coffee grinder to work at its peak ability, grind your coffee beans fresh each morning. If you don't, these factors will affect your cup:
Oxidation: As soon as your coffee grounds touch the air, they begin to oxidize. Oxidation isn't inherently bad, but prolonged oxidation will affect the way your coffee tastes.
Moisture: Coffee works because the oils in coffee beans are water-soluble. (7) When you brew coffee, that water dilutes the coffee. The same thing happens when you grind your coffee and let it sit in your home for days before you brew it. The moisture in the air has a safe effect on your beans.
Co2 Depletion: Co2 is part of the coffee brewing process, too. When you grind your beans, Co2 escapes from them. You don't want too much of that Co2 to escape, so you should brew right away.
Grind Level Control: When you grind your own beans, you have control over what kind of cup you have that day. You could have a fine grind for espresso or a coarse ground for a French pressed coffee. If you purchase pre-ground coffee or grind all your coffee at once, you lose that control.
Coffee Ground Contamination: All the smells hanging in the air in your home are potential contaminants for your grinds. They absorb everything, and when they do, it affects the taste of your coffee. It's more difficult for the smells to penetrate coffee beans, but not impossible.
Freshness: Once you roast beans, they immediately begin to age. Think of it like bread. As soon as it hits the air, it starts to get stale. Coffee beans work the same way. The process is a little slower for whole beans. If you are working with grounds, there's more surface area exposed than a whole bean. That accelerates the process of your beans going stale. (8)
Final Thoughts
Choosing a burr coffee grinder is a daunting task, but now that we've seen some options and learned about the features, we can pick the best coffee grinder. For the value, features, accessibility, and longevity, my pick is the Oxo Brew Conical Burr Coffee Grinder.
What Makes the Oxo Grinder My Number One Pick?
You will get the best tasting cup of coffee when you grind your beans fresh every time before brewing.

De'Longhi
Capacity to hold almost one full pound of coffee beans.
15 grind settings (including micro-adjustment settings to fine-tune your cup)
One-touch start timer saves your last brewed cup's settings
The grounds container holds the equivalent of 12 cups of coffee
Conical burrs ensure consistent bimodal particle size, which is excellent for different brewing methods
Affordable and durable
There's no 100% perfect burr grinder. That's not the goal. The goal is to find a grinder that gives you the freedom to brew the coffee that you want, but at your own leisure.
References
https://learn.compactappliance.com/coffee-grinder-buying-guide/
https://alternativebrewing.com.au/coffee-grinding-guide/manual-vs-electric-coffee-grinding/
https://perfectdailygrind.com/2017/12/a-brewers-guide-to-choosing-a-good-coffee-grinder/
https://perfectdailygrind.com/2017/12/a-brewers-guide-to-choosing-a-good-coffee-grinder/
https://youtu.be/-m3j7V5IlaA
https://www.freshcup.com/grinding-for-a-purpose/
https://www.homegrounds.co/why-is-freshly-ground-coffee-better/
https://soloespresso.net/fresh-ground-coffee/