Best Home Espresso Machines of 2020
Looking for the best espresso machine that fits with your tastes and lifestyle? You've come to the right place. When you love coffee as much as we do, an espresso machine is an essential kitchen appliance.
We are here to help you find a coffee maker that delivers the perfect brew every morning. We've scoured the web for the best espresso makers at different price points. Here are the devices you need to know about before you go shopping.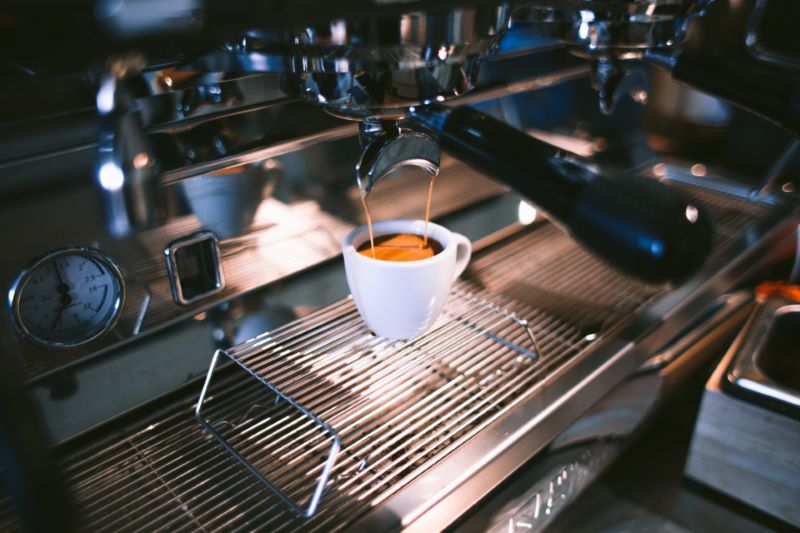 Espresso Machine Reviews
Your espresso machine should be as unique as you are. We've based our rankings on several factors to account for all the differences in price, automation, and performance. These rankings will help you find the best espresso machine for your preferences and wallet.
1. Breville Barista Express (BES870XL) – Best Rated Home Espresso Machine
The thoughtful design of the Breville Barista Express is evident from the moment you take it out of the box. The machine features an intuitive interface and sleek design so that even first-time users can brew the perfect espresso. Espresso aficionados also appreciate the pressure gauge, which offers precise measurements.
This semi-automatic machine delivers velvety and smooth espresso time and again. Elevate your morning cup with the micro-foam milk that doubles as a latte art maker. The fact that the Breville Barista Express has a steel body for long-lasting durability is a long-term bonus.
Pros
Precise measuring tools
Steel exterior for durability
Consistent espresso quality
Decadent foam milk texture
Cons
Does not have a kill switch
2. De'Longhi EC155 15 Bar Pump Espresso and Cappuccino Maker – Best Budget Espresso Machine
De'Longhi's company mission is to "be recognized as the global market leader in coffee" (1).The EC155 Bar Pump Espresso and Cappuccino Maker is a declarative step in that direction. This machine appeals to budget-minded consumers that can't go without a fresh cup of quality espresso.
The De'Longhi EC155 works with ground coffee or pods, thanks to its patented dual-function filter holder. The 15-bar pump pressure ensures an ideal pour to your specifications. Whether you want a double espresso, latte, or cappuccino, the De'Longhi EC155 will have you pouring like a pro in no time.
Pros
Dual function filter holder
Durable stainless-steel boiler
15-bar pump pressure
Ideal for budget-minded consumers
Cons
Lack of power (120v)
Lack of temperature control
3. Rancilio Silvia Espresso Machine with Iron Frame and Stainless-Steel Side Panels – Best Under $1,000
The Rancilio Silvia Espresso Machine is the byproduct of nearly a century's worth of innovation and research. The sleek interface and stainless-steel frame are a testament to expert engineering. This espresso machine excels in performance not only because of the interior components but also because of the seamless ergonomicexterior.
Just based on its superior performance and excellent reputation, the Rancilio Silvia Espresso Machine meritsseriousconsideration. It also brews the highest quality cups of coffee, thanks to professional-caliber heat retention and extraction. The 12-ounce boiler provides steam capacity that far outpaces competitors of the same size and price.
Pros
Ergonomic design
Thorough extraction quality
Professional-grade steam knob
Additional features like pod and capsule adapter kit
Cons
The drip tray is relatively small
4. Gaggia RI9380/46 Classic Pro Espresso Machine – Best Espresso Machine Under $500
Straightforward. Affordable. Portable. Those are the calling cards of the Gaggia RI9380/46 Classic Pro Espresso Machine. The compact machine offers a robust set of features at a fraction of the traditional price. That includes a portafilter and steam wand that you can find at your local coffee shop.
The Gaggia RI9380/46 Classic Pro Espresso Machine delivers a consistent brew with a healthy layer of crema. You can use one of the commercial baskets if you want to personalize your grinder experience. Regardless of what grind you select, the espresso machine delivers a piping hot cup of coffee in as little as five minutes with its dual heating element.
Pros
Commercial three-way solenoid valve
Highly portable
2.1-liter water tank
Dual heating element in the boiler
Cons
Prone to leaking
Fickle thermometer
5. Sunbeam EM500 Café Barista Milk Coffee Machine – Best for Beginners
Sunbeam makes affordable espresso simpler than ever. The company even markets the EM500 Café Barista Milk Coffee Machine as "an easier way to get café quality coffee at home with the one-touch control panel" (2). Whether you are an amateur or an aficionado, this machine ensures you start your mornings off right.
The compact design features a clear and easy-to-use interface, including three coffee making options in one. All you have to do is select your favorite style and let the semi-automatic machine do the rest. There is even a trouble-free automatic milk frother for the perfect finishing touch.
Pros
3-in-1 espresso, cappuccino, and latte maker
One-touch control panel
Hassle-free automatic milk frother
Affordable
6. De'Longhi Automatic Coffee Machine– Best for Offices
The De'Longhi Automatic Coffee Machine will make you the hero of the office. It delivers fresh coffee with a built-in burr grinder so that you can adjust your cup to the desired coarseness. The machine has recommended grind settings for any first-time users, too.
One of the best features of thisespresso maker is the extraction system. The machine holds its own against models of the same size and price in terms of coffee concentration. It can also prepare your favorite beverage in under 40 seconds, so you have time to enjoy it no matter how tight your schedule.
Pros
Patented burr grinder
40-second heat-up
Top-tier extraction
A fully integrated and adjustable manual frother
Cons
Frother does not work well with whole milk
The tank requires manual filling
7. Flair Espresso Maker – Best Lever Espresso Machine
The Flair Espresso Maker is one of the newest espresso makers on the market. The product initially began as a Kickstarter campaign as a way to make "in-home espresso easily and affordably" (3). Its defining feature is a lever that makes the entire process manual, unlike other models on this list.
The Flair Espresso Maker lets you control the flow of brew water through the coffee grounds. This is the key to finding the proper espresso extraction with each pump. The setup allows you to use whole beans or pre-ground coffee. Regardless of which grind you select, your shot will feature a healthy layer of fresh crema on top.
Pros
Environmentally friendly
Budget-friendly
Easy to repair
Space saving
Cons
Some people would rather not manually make coffee
Not suitable for more than two people
8. De'Longhi EC680M Dedica 15-Bar Pump Espresso Machine – Best Compact Espresso Machine
There is a lot to love about the De'Longhi EC680M Dedica 15-Bar Pump Espresso Machine. Not only is it one of the best-looking espresso makers, but it is also one of the most compact. The sleek aesthetic and design let coffee connoisseurs get café-caliber brew without taking up more counter space than a toaster.
The De'Longhi EC680M Dedica 15-Bar Pump Espresso Machine offers high-end performance as it brews coffee in as little as 30 seconds. You can apply a finishing touch with a thick layer of crema or the discrete moveable milk frother. The machine is also a breeze to clean, thanks to the stainless steel finish and accessible corners.
Pros
Nearly silent while in use
Features useful cup warmer
Consistent brew quality
Saves space with a compact design
Cons
Gets clogged from extra-fine coffee grounds
Cannot brew light roast as well as premium counterparts
9. SOWTECH Espresso Machine 3.5 Bar 4 Cup Espresso Maker – Best Value Espresso Machine
If you are willing to have "really good" espresso instead of "great" espresso, then the SOWTECH Espresso Machine 3.5 Bar 4 Cup Espresso Maker is for you. The device delivers a respectable cup of java at a fraction of the price of premium models. That includes a frothing arm, so each beverage gets the proper velvety finish.
You can brew up to four cups at once with the SOWTECH espresso maker. The reliable extraction system and precise temperature controls provide a rich, smooth, and creamy complexion for each cup. Even if you have never used a SOWTECH product before, you will have no trouble navigating the single switch knob interface.
Pros
Ideal for budget-conscious consumers
Easy-to-use with a single switch knob
Brews up to four cups at once
Precise temperature control
Cons
Milk frother does not compete with premium models
10. Breville BEC120RED1AUC1 Inissia Espresso Machine – Best Pod Espresso Machine
The advent of the Breville BEC120RED1AUC1 Inissia Espresso Machine comes from a fortuitous marriage. Founder Eric Favre is Swiss and wanted to show his Italian wife that "I have the capacity to make the best espresso" (4). The result was a pod-based coffee maker that produces fresh and high-quality without the hassle or cleanup.
The Breville BEC120RED1AUC1 Inissia Espresso Machine uses a high-pressure pump to extract barista-style coffee every time. All you have to do is press a single button, and the machine does the rest. The espresso maker produces up to nine coffees without you having to refill the 0.7-liter tank.
Pros
Water reaches the ideal temperature in 25 seconds
Energy efficient
Delivers 19 bars of pressure
Easiest machine to clean on this list
Cons
Restricted to buying Nespresso pods
11. Cuisinart EM-100 1.66 Quart Stainless Steel Espresso Maker – Best Value for Money
Cuisinart makes it possible to have a gourmet espresso at home. The Cuisinart EM-100 1.66 Quart Stainless Steel Espresso Maker comes with 15 bars of pressure and customizable serving sizes for the perfect portions. A separate steam system and stainless-steel nozzle offer ready-to-pour milk froth for lattes and cappuccinos.
One of the biggest perks of the Cuisinart EM-100 1.66 Quart Stainless Steel Espresso Maker is its spacious removable reservoir. Avid coffee drinkers only have to refill it twice a week so that you can spend more time on the more important things in life. It also comes with a warming plate to ensure every beverage is the ideal temperature.
Pros
Brews coffee grounds and pods
Large removable reservoir
15 bars of pressure
Commercial-grade steam wand
Cons
Excessively loud while in use
Only produces small cups
Buying Guide: What to Look for BEFORE Buying
Temperature and Pressure Control
Coffee is a complex beverage. It has more than 1,000 aromatic compounds that contribute to our sense of smell and taste. Getting the most out of these aromas means properly calibrating the temperature during brewing.
James Hoffman states in his book, The World Atlas of Coffee, that sugars break down in the coffee grounds due to heat (5).Thus, the heat causes a caramelization flavor, also known as the Maillard reaction. Optimizing the roasting process ensures an ideal reaction with the sugars, carbohydrates, and nitrogen compounds.
Temperature also affects extraction. The hotter the water is, the easier it is for the espresso maker to extract flavor. The increase in temperature forces water molecules in the machine to move faster. This process increases the number of interactions between the water and the coffee, causing more flavors to dissolve into the final beverage.
You can only realize the benefits of high temperatures, though, if there is adequate pressure control. The best espresso machines combine both features. The pressurized system pushes the water through the ground coffee beans to facilitate extraction.
Machines with two-boiler systems tend to have the most accurate control of temperature. These allow you to quicklyprepare your coffee for a rich and potent cup. While there is nothing inherently wrong with a single built-in boiler, they cannot simultaneously brew coffee and froth milk.
Ease of Use and Setup
Design is all around us. Every product we use requires a certain degree of planning, engineering, and construction to reach its final form. The most successful products are the ones that work without us noticing it.
Good design is obvious. Great design is transparent.

Joe Sparano, graphic designer
The same logic applies to the best espresso machines. Whether you are a first-time brewer or a veteran, you should find the setup and interface easy to use. That means you don't have to consult the instructions time and time again to use it properly.
One great example is the SOWTECH Espresso Machine 3.5 Bar 4 Cup Espresso Maker. This espresso maker has a single button control panel that makes getting coffee straightforward. And it comes with a well-labeled interface to ensure the setup process goes smoothly.
However, a great design doesn't have to be a simple design. The Breville Barista Express has more buttons and knobs for more precision and personalization, but it is still simple to use. The machine even has a digital display that walks you through every step of the coffee-making process.
The Breville Barista Express's exceptional design extends to its long-lasting outer components. The exterior is brushed stainless steel that minimizes wear, even among regular users. It also has smooth edges and accessible features, which make cleanup a breeze.
Air Incorporation
Stable water temperature and pressure are arguably the two most important components of an espresso machine. Air incorporation compliments these goals simultaneously. It is the difference between a standard home-brewed cup of coffee and a commercial one.
I realized the importance of air incorporation while using a Rancilio Audrey. No matter how hard I tried, I could not get the crema to match that of my local coffee bar. The commercial version was creamy and light with an almost glossy texture. My coffee looked closer to muddy water.
Only when I started using bar pressure did I obtain better results. The most significant takeaway was that I had to eliminate the ripple of water pressure during espresso extraction. The absolute value of the water pressure was less critical.
When you want the quintessential espresso, consider using a lever machine. While the manual component requires a touch more hands-on effort, the results speak for themselves. Rotary pumps are the runner up in air incorporation quality, followed by vibration pumps.
Accessories or Extra Features
There is nothing like a quality cup of espresso. The cup delicately balances aromatics, richness, and sweetness for an ever-enjoyable drink. The odds are you know exactly how you like your espresso. There are plenty of extra features and accessories on espresso machines that make the perfect concoction possible.
The quintessential expression of coffee is espresso

Ernesto Illy, Italian food chemist and businessman
Invest in smart technology if you want your coffee ready with the least amount of work possible. The espresso machine does all the work from measuring water to automating the drip and temperature settings. There are even machines that let you brew coffee from the convenience of your smartphone or tablet.
The same convenience carries over to single-serve pods. Companies like Nespresso have made brewing cups easier and more affordable (6). You no longer have to purchase an entire bag of hazelnut blend without guessing whether you'll like it. Once you buy the pod, you can insert it, and the machine does the rest. Some of the best espresso machines allow you to use pods or coffee grounds interchangeably.
A good milk frother is an essential component of the best espresso machines. You should have a café-style head that is decadent and airy every time. Many of the espresso makers on this list have a milk frother or steam wand built-in, so a frothy finish is always on-hand.
Multi-cup settings have upended the traditional way of making coffee. You no longer have to brew an entire pot of java in hopes of getting a quick caffeine fix. Multi-cup settings let you brew a specific volume or number of cups based on your desired preference. If there is robust heating technology, you'll have fresh coffee in no time while minimizing waste.
One of the easily overlooked parts of espresso making is the cleanup process. Make your life easier with stainless-steel exteriors and removable components. Stainless steel is easy to clean and looks great, whether you have a modern, rustic, or vintage kitchen. The detachable parts, such as the swing baskets and water reservoirs, let you wipe down the hard to reach places.
Not a fan of cleaning? Invest in a self-cleaning espresso maker. While you should wipe down your machine occasionally regardless of the make and model, a self-cleaning model automatically detects and removes pesky calcium deposits. The proactive cleaning ensures a spotless coffee maker and a longer overall life expectancy.
Price
Price is what you pay. Value is what you get.

Warren Buffett, chairman and CEO of Berkshire Hathaway
Every transaction you make requires some balance of price and value. The price is what you see on the product. The intrinsic value is less precise and varies based on your needs and preferences. Ideally, you find an espresso machine that delivers outstanding value for a reasonable price.
The catch here is that the term "value" differs for every person. Some of us would never spend more than $100 on an espresso machine. To us, the value of the espresso doesn't justify the price. But the same logic works in reverse. Other people believe there is no price too high for a great cup of coffee.
Ultimately, theprice depends on your budget. You can find outstanding values on our list, regardless of how much you are willing to spend. For instance, the SOWTECH Espresso Machine 3.5 Bar 4 Cup Espresso Maker costs less than a pair of shoes. It delivers straightforward coffee making and consistent quality without costing a fortune.
There are noteworthy premium models, including the Breville Barista Express and De'Longhi EC680M Dedica 15-Bar Pump Espresso Machine. Both versions offer commercial-caliber coffee and customizable controls so that you get coffee your way. They also cost under $1,000.
If price is not an object, there are commercial-grade espresso machines that range from $2,000 to $20,000 (7). Jura and Unic are two of the leading brands for the luxury price range. These espresso machines come with unique features, such as two steam milk frothers and multiple hoppers.
Different TYPES of espresso machines
Pod machines (No-Fuss)
A pod coffee maker is the easiest way to go about your morning routine. Switch on the machine. Add fresh water. Insert the pod. Press start. Then, you just need to wait a minute or two before enjoying apiping hot cup of espresso.
Pod machines are ideal for consumers that value convenience, speed, and consistency. They are also an excellent choice if you enjoy trying many different coffee flavors. Pod machines let you rotate podstyles from chai to cinnamon to chocolate mocha, as often as you want.
Nespresso, Senseo, Keurig, and Illy are some of the prominent manufacturers of pod machines. Even the highest-rated models are affordable, rarely costing more than $200. Another benefit is the pod system'seco-friendly design. The pod-based system minimizes waste and energy consumption so that you can reduce your environmental footprint.
While there are high-quality pod machines, the top-end versions cannot compete with the best traditional espresso makers. You should consider a drip brewer if you want the most exquisite cup of coffee. If convenience is your greatest motivating factor, then a pod machine is a better fit.
Super-Automatic Machines (Top-Quality Automation)
Super-automatic espresso machines are fully automated coffee and espresso makers. They feature built-in coffee grinders that start preparing your coffee with the push of a button. You can set the preferences for coffee strength, temperature, and quantity in advance.
A super-automatic espresso machine does most of the work for you. Once you pour in the coffee beans and refill the tank, it takes care of the brewing. That way, you can focus your attention on other matters while it prepares a single, double, Americano, or any other drink in a matter of minutes.
While a super-automatic machine produces high quality coffee, the primary benefits of owning one are convenience and speed. The best espresso makers in this category can produce upwards of 350 shots per hour (8). That quantity covers a range of styles that ensure you receive a steaming hot and flavorful cup every time.
If you buy a super-automatic machine, be prepared to do a fair amount of maintenance and cleaning. Most models require you to remove the brew heads and clean them once per week. That is on top of a deep cleaning every month. These regular cleanings are essentials to remove unwanted dust and grounds while also treating aging parts.
Automatic Machines (Easy and Consistent)
Automatic coffee makers have been around since 1908 (9). They eliminate the need for manual control during the brewing process. These machines oversee all aspects of production so that you can do other things during preparation.
Automatic coffee makers have a device known as a "flowmeter." It monitors and controls the rate at which water passes through the puck and stops the flow when appropriate. The stop of water flow is what differentiates it from a semi-automatic model.
This approach ensures you have a consistent volume on each shot. It also means you do not have to wait patiently over the machine to prevent overflow. The automation makes these machines a popular choice among cafés around the world.
The internal timer on automatic espresso makers varies by model. You can expect the machine to cut off around 25 to 30 seconds as a rule of thumb. You can step away from the device during that time without fear of something going wrong.
The drawback is that you do not have any control over the shot timing. There is a five-second range in the internal timer than can mean a variety of different flavors. The benefits of automation outweigh this con, though, if you are not ultra-picky about the final complexion.
Semi-Automatic Machines (Coffee-Connoisseur)
The semi-automatic model is the brainchild of Italian barista Achille Gaggia, now of Gaggia coffee maker fame (10.) He invented the version of the espresso maker in the 1940s as a user-friendly Piston-based coffee maker. The device lets people utilize an electric pump for guaranteed pressure at eight to nine atmospheres, unlike contemporaries.
Semi-automatic espresso machines do most of the work for you. They have a portafilter that requires filling with ground coffee and needs tamping for a proper fit. Once you establish the right resistance, you can press the on/off switch and let the machine start brewing.
The espresso maker's electric pump then takes over and draws water from the boiler. It forces the water through the portafilter and coffee grounds at high pressure. This process lets the machine extract the coffee flavor. You can press the on/off switch again when the machine finishes extracting.
The last step is the primary difference between automatic and semi-automatic espresso machines. Semi-automatic machines do not shut off by themselves. You have to stop the extraction process as opposed to the automatic version doing it for you.
The benefit is that you have more control over the pour quality. You decide what parts of the coffee extraction go in your cup. While the process requiresa little bit of a learning curve, you get an incomparable degree of satisfaction from overseeing the finishing touches.
Semi-automatic espresso machines are arguably the most popular coffee maker. The easy-to-use interface and range of brewing styles offer tremendous convenience and customization. They also are among the most affordable coffee makers on the market.
Manual Machines (Expert Coffee-Master)
It's difficult to compete with the quality of a manual coffee maker. They offer the highest amount of control over your espresso experience. That includes everything from fine-tuning your grind to calibrating the temperature to applying the perfect amount of steam pressure.
I also have immense respect for the unhurried and artful. Manual brew methods embody the patience and meticulousness that I wish society valued more. Brewing coffee manually enables me to slow down and find joy in simple things done well.

Garrett Oden, founder of Yellow House Coffee
Manual machines, such as the Flair Espresso Maker, typically have a boiler, steam pressure gauge, portafilter, and manual lever. These components let you control the espresso extraction. While mastering each part requires time, the results are more than worth the investment.
Consider a manual espresso maker if you enjoy a high degree of customization and don't mind putting in a little elbow grease. The device lets you tweak minutia in a way that even the best automated models cannot match. The hands-on experience also cultivates a sense of appreciation for the skill and process that goes into brewing espresso.
All manual espresso makers come with minimal set up because they do not require electricity. The device is ready to use out of the box. It also makes them highly portable and ideal to use if you go camping or adventuring outdoors.
The drawback to a manual machine is the learning curve. We do not recommend most manual models for your first coffee maker. If you have a few years of experience, though, they are worth your consideration.
THE VERDICT
There are plenty of outstanding espresso makers on the market today. But, in our opinion, the best espresso machineis the Breville Barista Express. This café-caliber device excels in all areas of performance, whether that is dose control grinding with integrated burr grinders or ultra-precise flavor extraction.
While the Breville Barista Express may scare some people with its price tag, we believe the investment is more than worth it. That's because we think an excellent cup of coffee every morning is priceless. When you want a perfectly rich, flavorful, and balanced espresso, look no further than the Breville Barista Express.
References
https://www.delonghi.com/en-int/company/brand-fundamentals
https://www.sunbeam.com.au/Caf%c3%a9-Barista.aspx
https://www.kickstarter.com/projects/flairespresso/the-neo-delicious-affordable-espresso-at-home
https://www.businessinsider.com/afp-nespresso-inventor-says-wife-rome-cafe-inspired-the-pod-2016-8
http://www.theworldatlasofcoffee.com/
https://www.theguardian.com/lifeandstyle/2015/mar/04/why-the-man-behind-keurigs-coffee-pods-wishes-hed-never-invented-them
https://successstory.com/spendit/top-10-most-expensive-coffee-machines
https://altohartley.com/difference-between-super-automatic-and-semi-automatic-espresso/
https://coffee.org/pages/history-of-the-coffee-maker
https://www.gaggia.com/legacy/